Small update on the Ma.K. WIP
Learnt this from another online forum. How to make oil drums.
I decided that i would have some oil drum lying around rusting away with the suit. But don't know where to buy so the next best choice. Make ur self.
Start with a aluminium sheet try not to get one which is too thick or too thin. probably the thickness of your art block paper. Stick two rods to a piece of board and place the aluminium on top and rub.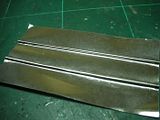 Place a wire on the top and bottom of sheet and fold it.
Next get some thing round and just roll it.
Final result. Not perfect but im gonna crush it anyway :P If someone can find out how to do it better pls place another tutorial.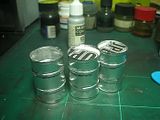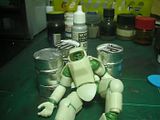 That's all folks :P