Suddenly interested in Ma.K. so i joint a local group build here's what i've done so far. :P
Started with the idea. The idea was to do something that I have not had the chance to do in a 28mm scale which was intense weathering and rusting to the point that it is a piece of junk. So i thought that 1/20 scale model would be great to try out all the techniques which i could not do in 28mm.
The title of this piece is "THE FORGOTTEN". The basic idea is a KIA Ma.K. suit and it has been left to rot and corrode.
I started with the head and how the pilot was killed. One shot to the forehead (Cliche i know). So i had so resculpt the head. And since the kit already had a head i decided waste not want not. :P
First step remove the 'flesh'. Had to shave the head and drill holes in the eye socket.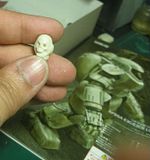 Step two cover it all again with green stuff.
Step three pick up your tools and work on it. (ok i know i missed a heck of a load of steps but i forgot to take pix of my progress). It has been too long since i sculpted and it did not turn out well but never mind the focus should be on the suit (i know excuses excuses... I suck...)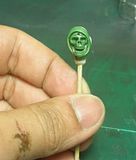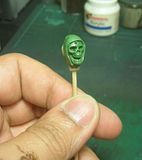 Then had to repose the suit and stuff in green stuff to all the joints. Again my lack of practice after leaving sculpting with green stuff for so many years shows.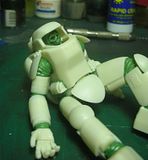 So much more to go. Hope to be able to update soon :P