Tuesday, September 28, 2010
Monday, September 20, 2010
Posted by

jinn
at 1:05 AM
7 comments:

Saturday, September 18, 2010
Been busy with my Phd and my proposal defence. Finally its Done :)
Here are some of the stuff that i've painted. These are for a friends art exhibition :)
He wanted 3 submarines to be painted.
Pix of the model assembled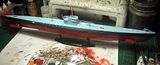 Pix of the final finished model. Submarines are really hard to take pix of :P
These are the remaining 2 subs that i painted :)
I really like this Tamiya sub. Tamiya produces the best model kits. The fit is awesome and there are a million little tiny bits which are really fantastic and just adds an enormous amont of detail. Really better than the other brands out there.
Posted by

jinn
at 12:53 PM
No comments: