Was planning to joining the infinity forum's competition with this display base but unfortunately i sold it before i could take better pix. Ah well....
I was a real joy to make and paint.
Began with just gluing some random stuff about. Nothing really detailed. 1st try. The most difficult part was using the circle cutter to cut the hole in the middle for the Cutter. Puttied the wall and the floor with Tamiya filler.
The painting was just basic. Air brushed the colors on.
Weathering is abit over done but thats my bad habit just don't know when to stop. :P Used oils and weathering powders to get the stains on the walls and rust on the door.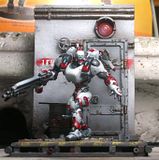 Finally the finished base with the Cutter. This is the only 2 pix which i took of the work coz my collector just bought it before i could even take a better pix.